Summer Internship Program 2022 for Students
Did you ever imagine grabbing a work opportunity while pursuing your bachelor's degree? Well, this is now possible!! If you are a student pursuing Btech/BE or MTech/ME, BCA/MCA or BCom/MCom or any other degree, grab this opportunity to gain work experience this Summer.

We will ensure that this summer, you are not bored at home and that you use this time productively to upskill and upgrade yourself! How, you ask? Let us explain!!
Data Science is one of the most trending technologies. According to the Harvard Business Review, Data Science is the sexiest job in the 21st century. As a result, studying Data Science is a lucrative opportunity for freshers who are trying to chart a successful career path. This IBM Certified Summer Internship program will give you a basic orientation to the field of Data Science.
It is important to focus on the training methodology that one uses in Data Science training. As a two-time awardee of the Times Award for the Best Data Science institute, Innomatics Research Labs has made its mark in Hyderabad, time and again, for its rich industry-aligned curriculum and expert instructors. We have emerged as the best Data Science institute in Kukatpally, Hyderabad because of our trainees' faith in us.
After experiencing an unprecedented demand for Data Science courses, we are introducing an Online Data Science Summer Internship programme where students have an opportunity to learn and train in Data Science along with the chance to get hands-on training with real-life use cases. 
ABOUT THE SUMMER INTERNSHIP 2022
Start Date: May 25 – July 29, 2022
Duration: 2 Months
Mode: Online
Certification: Course completion certificate & Internship Certification (For those who meet the criteria)
Pre-requisites: Currently pursuing BTech/BE/BCom/ or Mtech/ME//MCA/MCom
Enthusiastic to learn Data Science, Machine Learning & Artificial Intelligence Technologies.
Internship Fee:18,999 INR including GST
Registration Fee: 5000 INR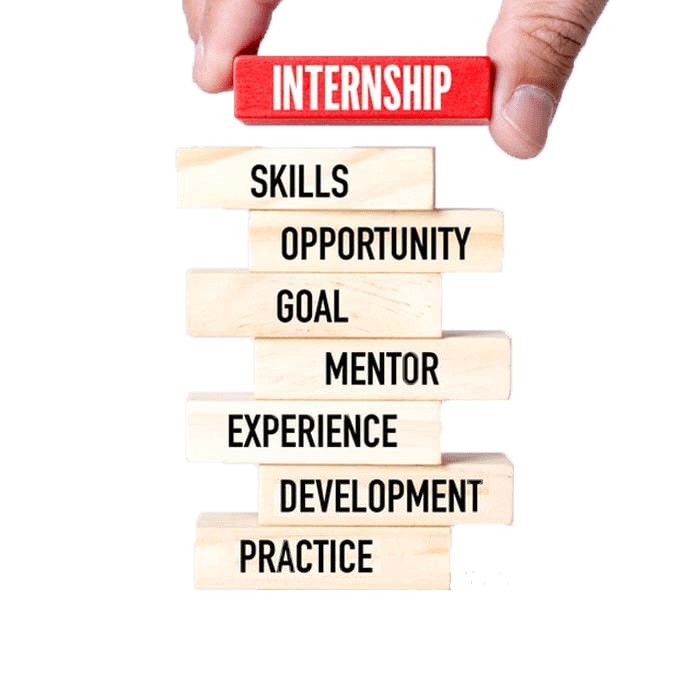 INTERNSHIP DETAILS
This special IBM Certified Summer Data Science Internship Programme has been systematically designed to provide a comprehensive introduction and orientation to the exciting world of Data Science. This is a 2 month (64 days) Summer training program for students who are pursuing their bachelor's or Masters's degrees. (BTech, BE, BCA, BCom, MTech, ME, MCA, MCom).
The curriculum design is intensive, in the sense that, it begins by teaching the fundamental concepts of Data Science and trains you in a manner that helps you master key Data Science concepts. The syllabus is sketched in a way that every trainee receives niche knowledge of Data Science concepts and gains work experience during their time at Innomatics Research Labs, Hyderabad. 
We teach from scratch so the course content is made easy for every student to be able to grasp concepts satisfactorily. It is also unique in way that the content doesn't match the curriculum of any other Data science training institute in Hyderabad. Therefore our curriculum & teaching methodology is unique and will make you industry-ready.
IMPORTANT DATES
| Details | Dates |
| --- | --- |
| Registration Opens | April 6th, 2022 |
| Registration Close | May 25th, 2022 |
| Internship Duration | 2 Months |
Internship Highlights
 8 weeks of intensive online training
 Get trained by top professionals and industry experts
 Personal assistance from certified mentors
 Globally accepted IBM certification
 Opportunity to upskill & upgrade
 Enhance your resume by building a solid GitHub & LinkedIn portfolio
 Guaranteed placement assistance (Strictly performance based)
 Opportunity to grab a position with us (This will be based on your training and professional conduct)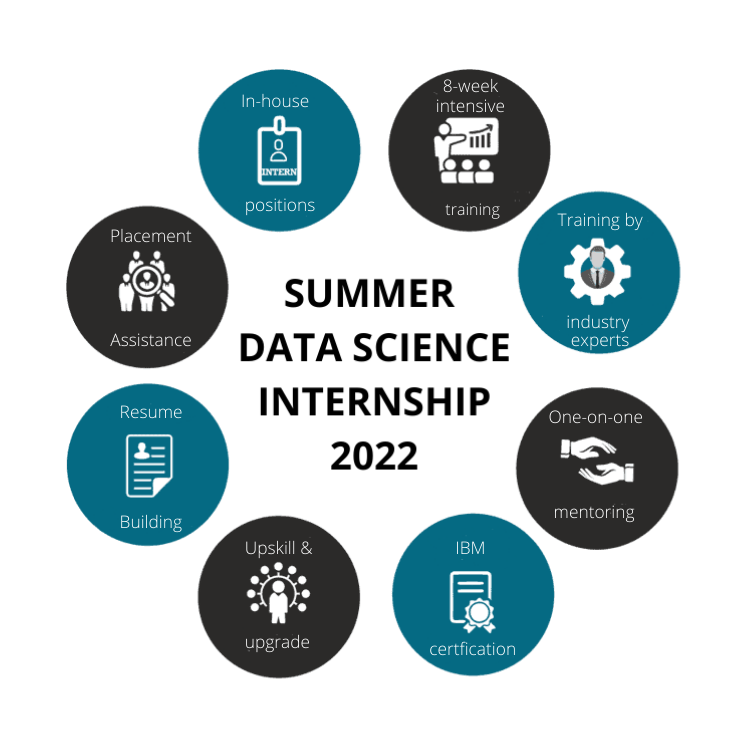 Summer camp program Syllabus (Data Science Curriculum)
1. Introduction to Data Science
Introduction to data science
Application of Data Science
Download and Install Anaconda
Overview of Jupyter Notebook
2. Python for AI/ML
Why Python?

Flow Control

Number, Strings, List, Tuple, Dictionary, Set

Function, Lambda, Map

Modules and Packages
3. Statistics
Linear Algebra
Statistics
Probability
4. Data Analysis
Data Analysis with Numpy
Pandas
Data Visualization with Matplotlib
Seaborn
Plotly
5. Exploratory Data Analysis
Exploratory Data Analysis
a. Iris Dataset, Titanic and Tips Dataset
b. Univariate Analysis (Numerical data)
c. Bivariate Analysis (Numerical data)
d. Working with categorical data
e. Bar Plot and Count Plot
f. Python Implementation on various datasets
Mini Project: Performing EDA on a dataset
Web Scraping
6. MACHINE LEARNING – SUPERVISED LEARNING
Introduction
Linear and Multiple Regression
K-Nearest Neighbor (Distance Based Learning)
Logistic Regression
Support Vector Machine (Distance Based Learning)
Navie Bayes Classifier
Decision Tree (Rule – Based)
Ensemble Methods
Performance Measurements of Model
7. MACHINE LEARNING – UNSUPERVISED LEARNING
Clustering
Dimensionality Reduction Technique – PCA
8. Natural Language Processing (NLP) – Text Mining
Tokenization
Stop Words
Special Characters
Regular Expressions
Stemming
Lemmatization
Bag of Word
TF-IDF
Sentiment Analysis
Spam Detection
ChatBot
9. Computer Vision
Introduction to Multimedia Data
Hands-on with OpenCV
Working with Images
Implementation of Face Detection
Pose Detection
Hand Tracking
10. Major Projects
Web Scraping

Project Development and Deployment on Cloud

Regression based ML Project 

Classification based ML Project

Clustering based ML Project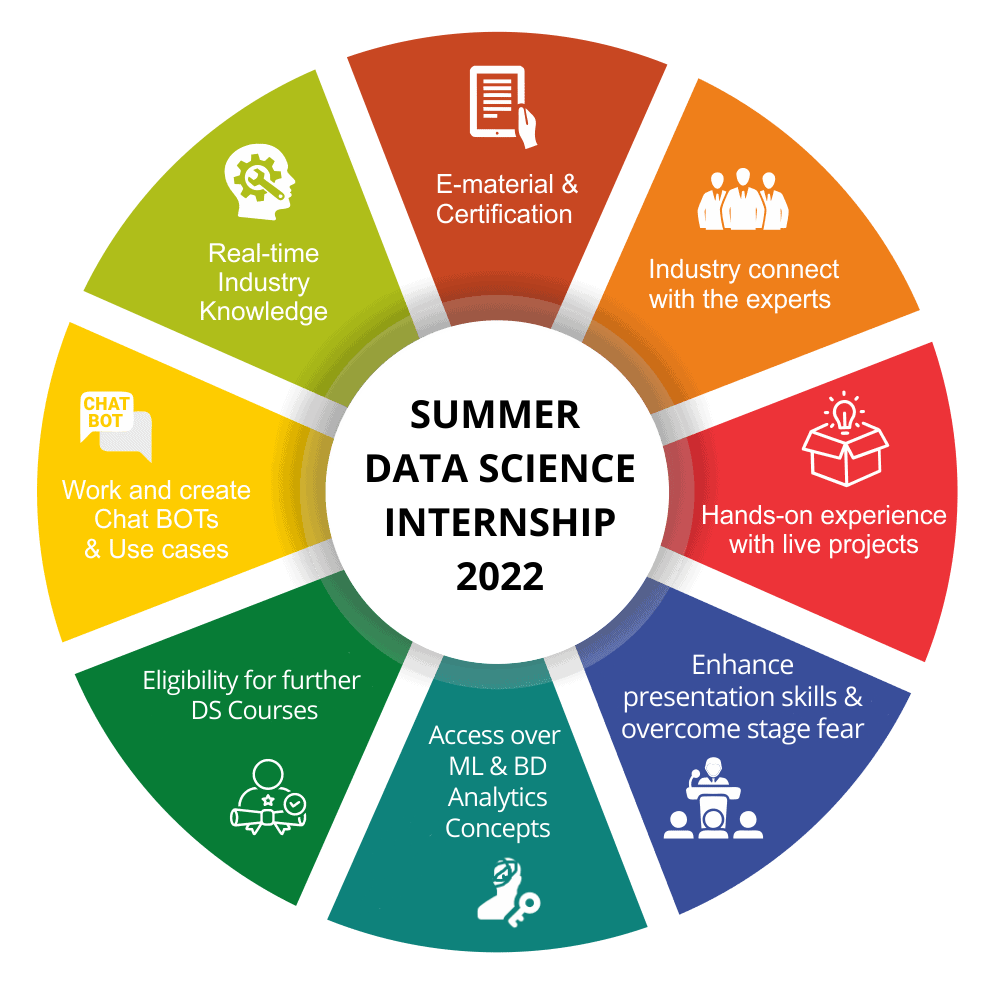 Program Outcomes
 IBM certification
 Gain real-time industry knowledge
 Hands-on experience with live projects
 A solid Github and LinkedIn profile
 Thorough knowledge of fundamentals in Data Science
 Eligibility for advanced courses & specialization in Data Science
 Access to industry connects, guest lectures and workshops from Innomatics even after course completion
 Enhance presentation skills and develop your confidence
 Viva sessions to test knowledge and provide feedback
A few reviews from our students
Frequently Asked Questions (FAQs) on Summer Camp program
What is the summer workshop about?
After seeing unprecedented demand for Data Science, we are organizing an internship session for students. This Summer, grab the opportunity to upskill yourself in ways that help you gain knowledge and be job-ready
Is this internship online or offline?
This Summer Data Science Internship Program is only available online. Hence it is important that every candidate has a dedicated laptop & a reliable internet connection.
Will this help me gaining a job after completion of my graduation in B.tech?
Yes. Not only BTech students but many more students hailing from various different fields will be eligible for Data Science jobs, advanced Data Science degrees and more, after completing this Summer Data Science Internship with Innomatics Research Labs.
Who is the faculty involved in training?
Our network comprises over 70 industry experts who hail from Fortune 500 companies and are considered to be experts in their respective fields. We also have a dedicated team of in-house Data Scientists who will help you with the queries and concerns, if any.
Can a non-IT Graduate/Professional learn Data Science?
Yes, we teach right from scratch. Our intensive industry-aligned curriculum has been designed in a way that even without a technical or programming background, anyone can easily follow the courses. We will help you build skills in areas where you face the most amount of challenges.
What are the skills required to learn this course?
No special skills are required. Basic knowledge of computer & internet tools is more than enough. The basics of certain programming languages are beneficial but not essential.
Is it worth learning Data science in summer camp program?
Our office is open from 10 PM to 7 pm from Monday to Saturday. You are welcome to visit during this time. You can also mail us at info@innomatics.in or call us at +91-9951171808. We would love to hear from you.
How can I contact you for the fees structure and all other details of the workshop?
Well, we love to hear from you and lucky enough to respond you within 24 hours of working tenure. You can catch us at info@innomatics.in or call us on +91-9951171808 with all your queries.
Is EMI available for this course?
There is no EMI available for this course. Payments will be one-time, no installations.