200
+
Hours of Live Lectures
50
+
Hours of Live Hands-on Sessions
100
+
Hours of Assignment & Projects
3
+
System Design Case Studies
Learn Java Programming with Application Development, System Design & Problem Solving
About this course
This is a unique Java Programming & Problem Solving course specially designed for gaining expertise in backend development of mobile and web applications. The course has been designed in a holistic way wherein theoretical knowledge gained during the course will be applied during hands-on training sessions.
Enroll on online Java Programming, work on SpringBoot, learn about app development and deployment in this 3 month-long extensive online Java Programming, Problem Solving & System Design course with Innomatics Research Labs. Work on different aspects of web development such as backend development, databases, debugging, and testing. Learn about web & mobile app development & deployment.
At Innomatics Research Labs, we don't just teach, our focus is on involving you in every aspect of learning. We assist you to gain knowledge and study case studies that build industry knowledge and professional perspective. Grab this opportunity to learn and build a career as a Java Programmer as we provide you with comprehensive placement assistance.
Register for this Java online course with certificate that will make you an expert in Java Programming, System Design and Problem Solving. Enroll on our comprehensive online Java application development & training course and script your own success story.
Prerequisites: There are no prerequisites required for the course. Basic knowledge in HTML, CSS, and JavaScript can be beneficial.
Programming Languages and Tools
Learning Outcomes
This course will prepare students for:
Building a backend API with Java SpringBoot

Protecting routes/endpoints with JWT (JSON Web Tokens)

Extensive API testing with Postman

Build strong problem-solving capability

Be familiar with Data structures and algorithms

Create build scripts and secure keys before deployment

Hands-on experience with Amazon EC2 Cloud Instance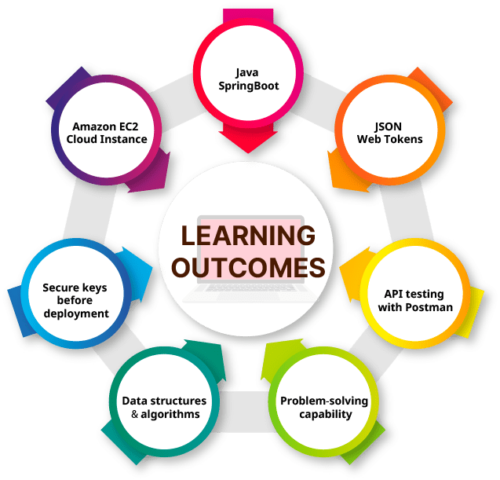 Learn Online Java Programming with Application Development & Problem Solving Syllabus
We have the best online certification course in application development which is guided by  quality content from leading faculties 
Module 1: Java Programming & Problem Solving
Java – Environment Setup, IDE, operator, expressions, statements, methods, OOPs concepts, arrays and collection, File and Exception Handling

Databases – Creating a DB using PostgreSQL, CRUD operations

Data Structures & Problem Solving
Module 2: System Design
System Design – Low Level and High Level Design and learn various and most popular Design Patterns like MVC
Module 3: Backend Development
SpringBoot – Introduction to MVC, MVC and RestAPIs, AOP, ORM and migrations, Testing, Views and Security

SpringBoot App Deployment and Capstone Project
Module 4: AWS Deployment & Capstone Project
SpringBoot App Deployment and Capstone Project

Application integration & Deployment
| Session Type | Date & Time |
| --- | --- |
| New Batch – ONLINE | January 19th at 8:30AM |
How many modules are there in this course?
A full-stack web development course specializing in Java Programming with Application Development, System Design & Problem Solving will teach you how to design and develop complete web & mobile applications. You will learn how to work on different aspects of web development including backend, databases, debugging, and testing. Experience our Java programming course with certification. 
Java Programming & Problem Solving: Learn backend web development including languages such as Java & train in strong analytical problem-solving skills
System Design: Learn application development that satisfies specific requirements
Backend Development: Learn application development using Java Programming
Deployment & Capstone Project: Learn web application deployment in the capstone project. 
From this course, you will gain all the skills to become a Java Programmer and get the opportunity to design, develop and deploy web applications. Grab this opportunity to register for this course, as at Innomatics we provide you with extensive mentoring, placement assistance, training and internship opportunities.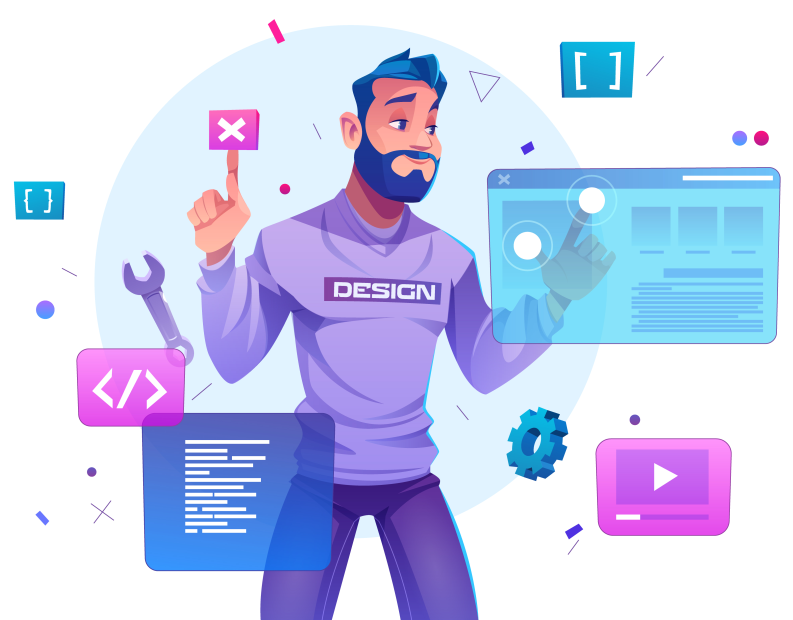 Advantage of this course:
Master the techniques involved in a development project.

Make a prototype rapidly.

Help all team members.

Reduce the cost of the project.

Reduce the time used for team communication.

Fulfill front and back end development roles based on requirements.

Understanding all aspects of new and futuristic technologies.
Frequently Asked Questions(FAQs)
What assistance will be provided during the course?
Innomatics offers dedicated mentorship to all students enrolled in any of our courses. Our mentors are available round the clock 7 days a week to help you with your doubts and queries. Every enrolled student has access to the LMS, to enable easy learning and revision. Additionally, we also have a Discord Community for further assistance in case of doubts.
What will I get after the duration of the course?
You will get a certification for the completion of the course & a possible internship opportunity.
Will every student be provided with an internship opportunity?
The candidate for the internship will be determined by the performance and diligence of the student during the course.
Where can I find the comprehensive curriculum for this online course?
Register for the course and download the curriculum brochure to learn in-depth about this offering.
Is an EMI option available to pay for this course?
No, EMI option is not available for this course.