Recognised as Hyderabad's
Best Education Icon 2019-2020
BEST
DIGITAL
MARKETING
INSTITUTE
Microsoft Azure Architect with DevOps Certification Training and 100% Placement Assistance
What is Microsoft Azure?
Microsoft Azure platform is the stage where the computing process has distributed. This system provides the Database as well as Application benefits. It also helps in the growth of business and reduces expenses. Microsoft Azure DevOps Architect Certification training in Hyderabad has planned in a way that all the students can learn how to build applications on the Microsoft cloud computing stage, and this Cloud Architect (AWS & Azure).
This Microsoft Azure Architect Course Technologies AZ-300 web-based instructional class can set you up for a profession as a confirmed Microsoft Azure DevOps Certification. You would ace Azure DevOps Course and development design for systems administration, security, unwavering quality, virtualization, personality, security, business progression, planning, and management.
In this progressed Microsoft Azure Architect Course, up-and-comers can procure In-Depth subject information abilities to manufacture and convey different applications that utilize Microsoft Azure Platform utilizing Visual Studio. The professional's continuous guaranteed mentors here would help the students towards getting a handle on the total broadness of the information in the ideas of a Microsoft space directly without any preparation.
Microsoft Azure DevOps Architect Certification training in Hyderabad is the ideal open door that would assist you in Cloud Architect (AWS & Azure) with transforming into complete vocation prepared specialists in Microsoft Azure Architect Course.
What you'll Learn in Microsoft Azure with DevOps Architect Course?
Arranging and configuring Azure foundation.
Creating mobilize applications.
Azure application systems.
Verifying of Azure resources.
Conveying assets with Azure Resource Manager.
Building IaaS based server applications.
Azure stockpile backing for Azure preparations.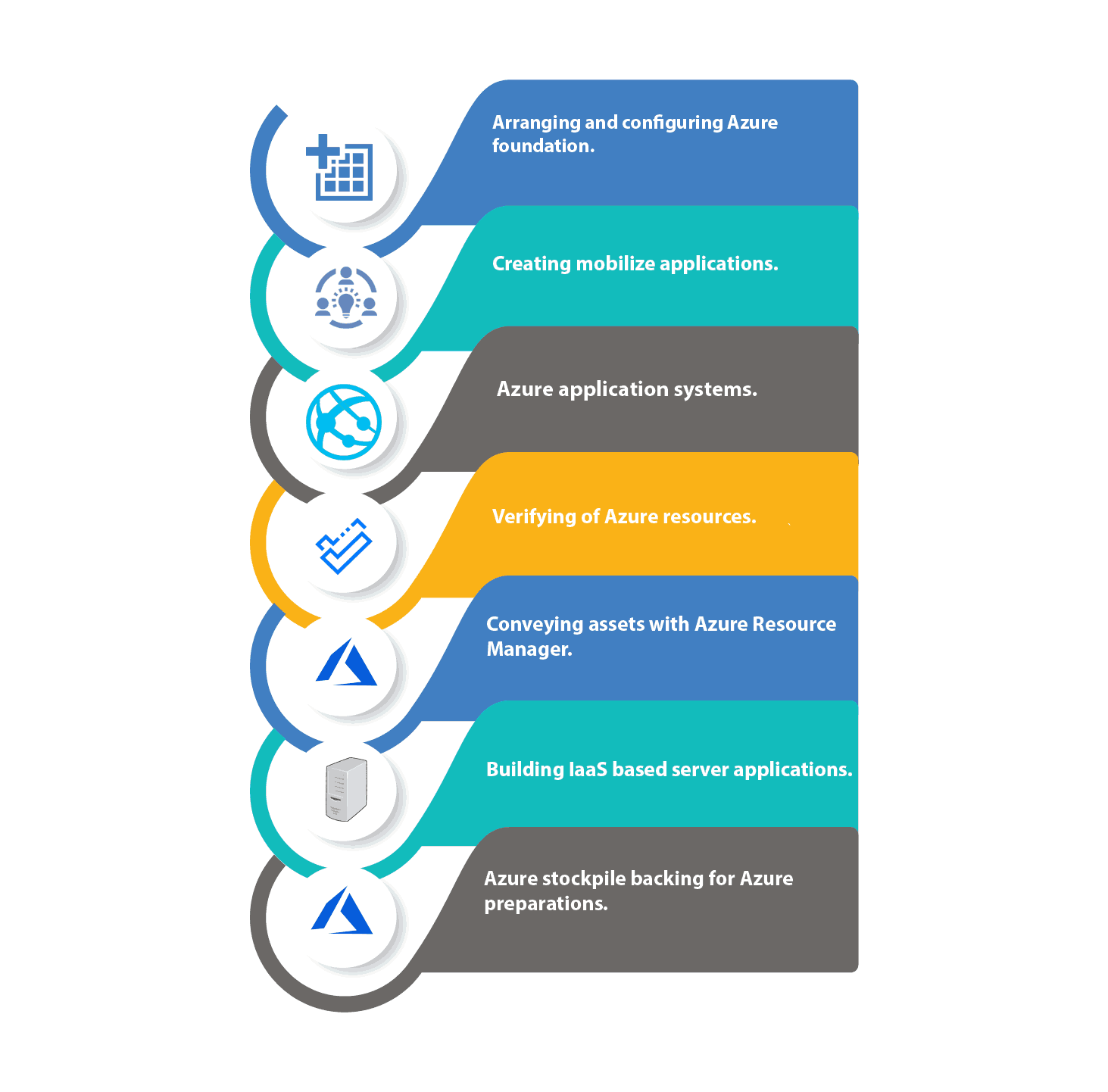 Requirements (Eligibility & Prerequisites)
Eligibility
This Microsoft Azure Architect Course training in Hyderabad is perfect for IT experts, experienced Azure heads, cloud solution designers and engineers, and DevOps experts.
Pre-requisites
You need earlier hands-on involvement with different IT activities to take this Azure solution architect course covers networking, organizing, virtualization, security, charging, figure, and stockpiling. Candidates must lean toward Best Microsoft Azure DevOps Architect Certificate Training in Hyderabad to procure sound information to the students. It would include a bit of leeway if the competitors have sound information in the beneath shown one. Additionally, you need capability in these areas by taking this most prestigious Cloud Architect (AWS & Azure) Masters program Training.
How to become a Microsoft Certified Azure Solutions Architect
To be a Microsoft Certified Azure Architect, you ought to have top to bottom knowledge of how to design solutions that can run on Azure. So, aptitude in the system, capacity, and security is an unquestionable requirement. The activity job that you can expect as a Microsoft Certified Azure Solutions Architect is that of a Solutions Architect. If that you need to turn into an Azure Certified Solutions Architect, passing AZ-300 and AZ-301 tests is essential as this is a specialist level affirmation.
You should have a bit of cutting edge information and experience across different IT activities, for example, virtualization, security, organizing, and so on. The job of a Microsoft Certified Azure Solutions Architect needs you to realize how to oversee necessary leadership in every zone influenced.
KEY FEATURES
A test voucher has included in the Azure DevOps Course.
You can easily Practice labs and tasks with integrated Azure labs at Microsoft Azure Architect Course.
Proper Teacher-Led Training over 28 hours is provided.
Information in use of Microsoft Azure Architect Course Portal and the rules conveyed.
You can get access to Microsoft's official material adjusted to the assessment.
Information in the making of web job and distributing it to Microsoft Azure Portal.
Taking in of movement from neighbourhood database to SQL Azure
Getting the subject information aptitudes in sharing media content that is sound and video with customers
Adaptability to pick classes
You can get certified and get Job support.
Microsoft Azure Curriculum
Why Innomatics for Azure?
Learn with exceptionally qualified scholastic establishments and mentors with colossal experience.
Directing of different assignments, meetups, and workshops for coordinated efforts.
700+ individuals got prepared since the time of origination
Presents, Exercises, and Assignments on the subject also provided.
The majority of Industry specialists are available.
Frequently Asked Questions (FAQs)