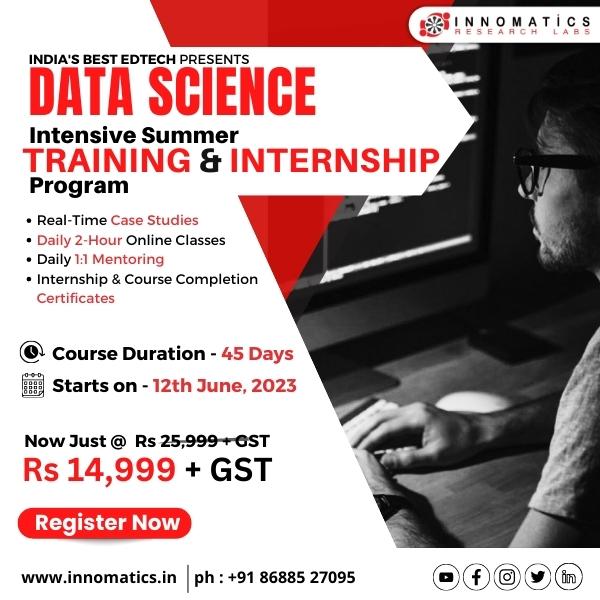 Elevate Your
Data Science

Skills with our Summer

Intensive Training

and

Internship Program
Our Data Science Intensive Training and Internship Program offers a comprehensive learning experience for students interested in a career in data science. Gain the skills, knowledge, and practical experience needed to succeed in the data-driven industry.
Join our transformative program and immerse yourself in dynamic learning with real-time case studies, daily online classes, and internships. Enhance your resume and make meaningful connections. Earn course completion certificates to validate your expertise and boost your employability. Open doors to exciting career opportunities.

Daily 2-hour online classes
Course completion certificate

Course Fee:  Rs. 14999/-(+GST)

Duration: 45 Days
Start DATE:

June 12th – 2023
Data Science is a game-changer for your career. It offers valuable skills in high demand, allowing you to navigate and analyze big data effectively. With data science, you become a problem solver, uncovering insights to drive business strategies. By learning data science, you unlock hidden patterns, enhance decision-making, and gain a competitive edge in a rapidly growing field. It's interdisciplinary applications and continuous learning makes it an attractive choice, shaping the future and making a positive impact. Don't miss out on the incredible opportunities data science presents. Invest in learning data science and unleash the power of data to transform your career.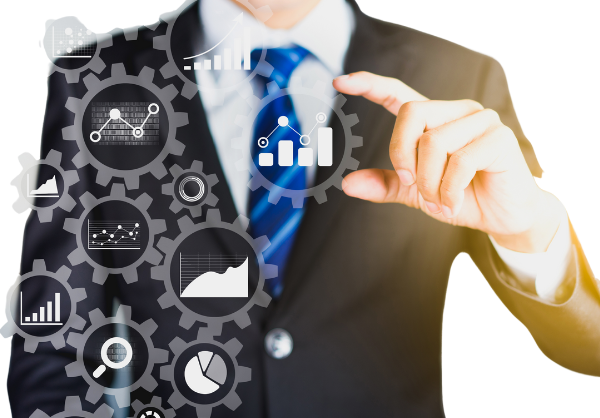 Intensive Training and Internship
Details 
Prerequisites
Basic understanding of programming concepts
Familiarity with statistical concepts
Some knowledge of mathematics, including algebra and calculus
Ability to work with data and perform data analysis
Proficiency in using computers and common software applications
Strong problem-solving and analytical skills
Good communication and teamwork abilities
Learning Outcomes
Work on multiple complex projects & real-time case studies
Strong foundation in data science concepts and techniques.
Hands-on experience with real-world data science projects.
Proficiency in Python programming for data analysis and manipulation.
Advanced data manipulation and data cleaning using Pandas
Solid understanding of linear algebra and statistics for machine learning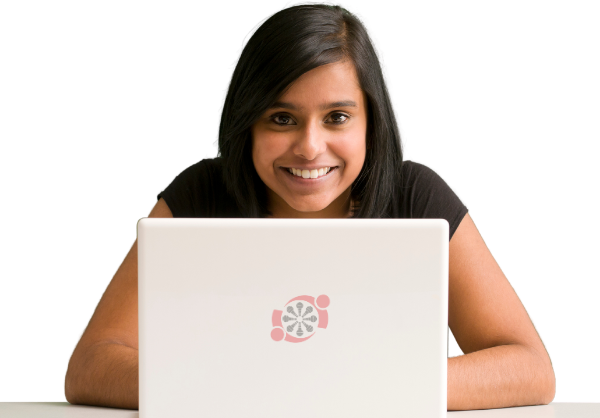 Throughout the program, you will acquire a solid foundation in various aspects of data science, including but not limited to:
Fundamental concepts and techniques in statistics and mathematics for data analysis.
Exploratory data analysis and data preprocessing techniques.
Machine learning algorithms and their applications in predictive modeling and decision-making.
Data visualization and storytelling using data to communicate insights effectively.
Big data technologies and tools for handling large-scale datasets.
Ethical considerations and best practices in data science.
Here Are Some Of Our Success Stories
A Few Reviews From Our Students 
Gourav Kumar
It is wonderful journey. In this internship, I learned lots of things. now , I can proudly say I have a excellent command over full stack. I maked lots of project which help me to clear my concept. And a special thank to my mentor who taught the hard topic in easy way.
Uday Sagar
This was the first internship program I attended. This was a great experience. During this internship I learned lot of things about frontend development and Backend development. I enjoyed learning at every moment in this internship program. The assignments given to us are very useful. Each and every topic is explained in a way very easy to understand. I think this is the First and best internship program in my journey.
D Ramdas
I am a Data Science intern at Innomatics Research Labs, The program was well-structured, with weekly topics, daily classes, and practical assignments. I gained hands-on experience in the entire Data Science workflow from Python to machine learning models and deployment. and Kanav Sir was fantastic. He was incredibly knowledgeable about the industry and always willing to share his expertise with Us
Hari Krishna
From Python to machine learning models and deployment, I gained hands-on experience in the entire Data Science workflow. The instructors were knowledgeable and supportive, creating a collaborative learning environment. I highly recommend Innomatics Research Labs for anyone looking to kickstart their Data Science journey!
Ashwini
Hello I am Ashwini,i joined innomatics lab for learning data science,i am non-it,non-engineering background student,so initially i was worried about the course,but i must say,here the faculty is so supportive and they clear your doubts as many times as possible,if you have any issues during course,you contact with course coordinator and they help you very well.I am so glad that i joined this course..
Lashika Arunachalam
This is one of the biggest platform for people who want to excel in a Data Science career. I did Data Science Internship in February 2023. I learned more new concepts in the Internship. Thank you Kanav Sir for the great teaching. We are blessed to get you as our mentor. Thanks a lot, Kanav Sir, and Innomatics Research Labs.
Ssc Nasscom Certification
Career support from futureskills prime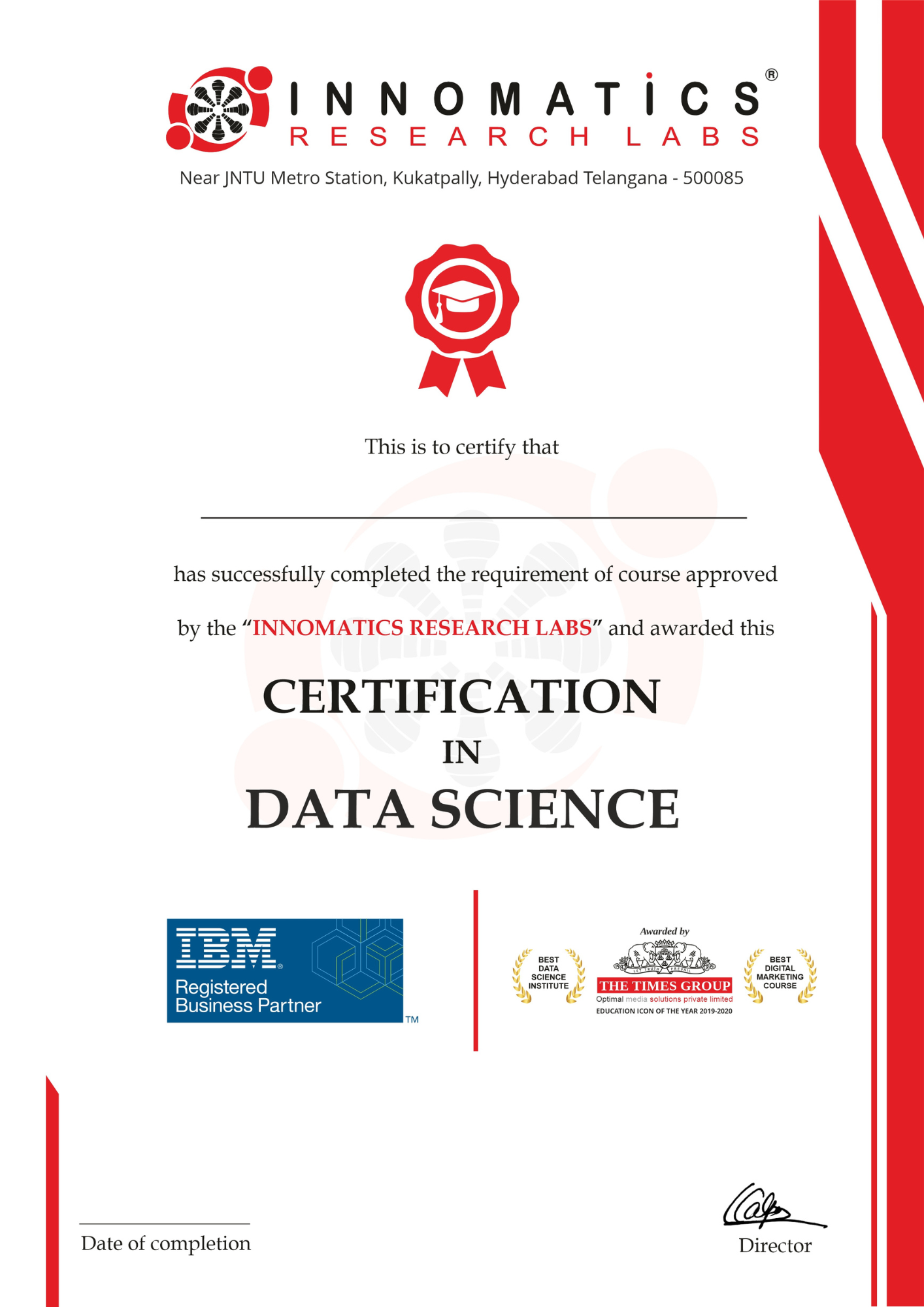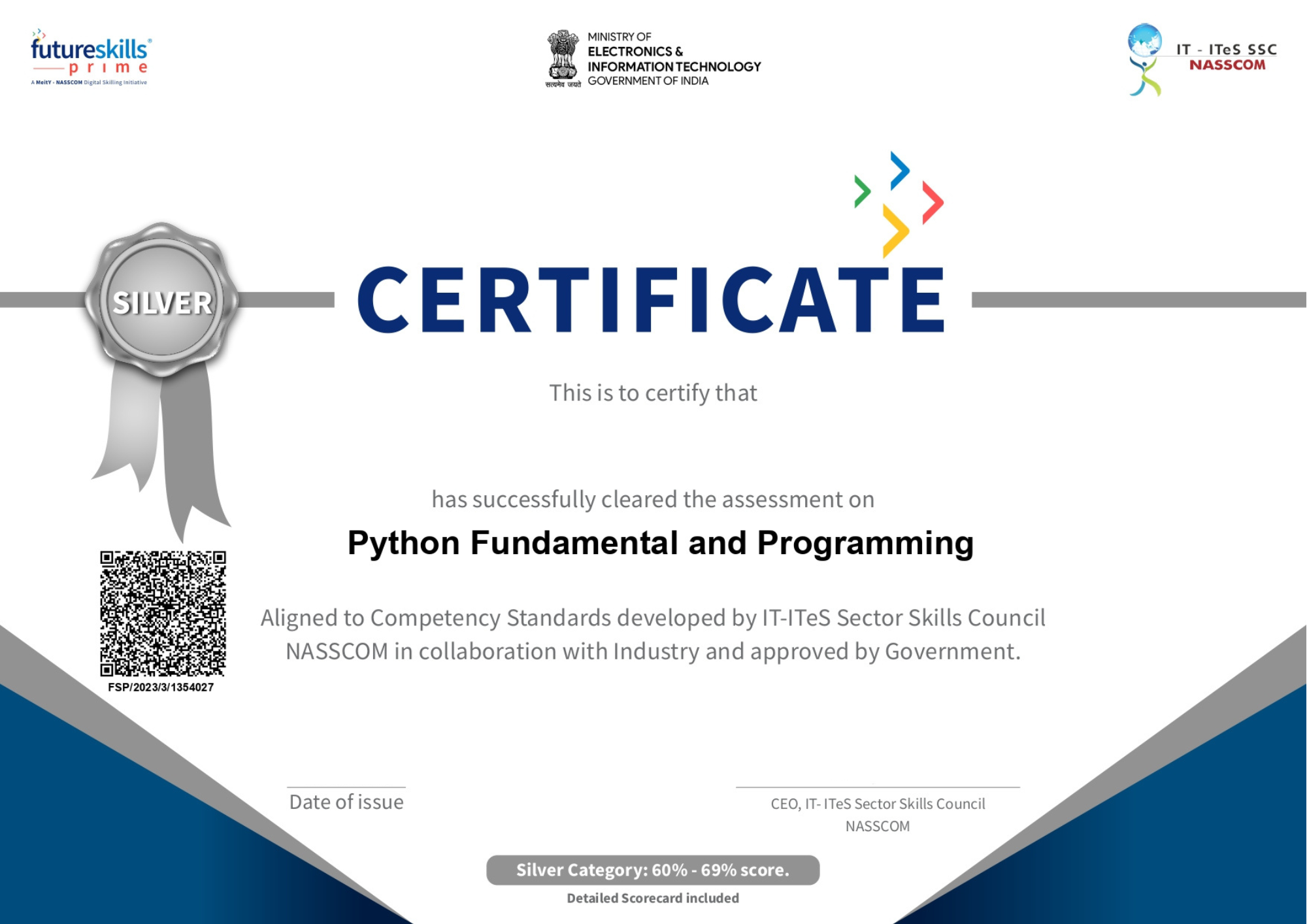 Register Before – 11th June
Frequently Asked Questions (FAQS)
Are there any prerequisites for joining the program?
No specific prerequisites are required. However, a basic understanding of programming and statistics will be beneficial.
Is this program suitable for beginners?
Yes, the program is designed to accommodate learners with varying levels of experience, including beginners.
Will there be any placement assistance after completing the program?
Yes, we provide placement assistance and guidance to help you explore job opportunities in the data science field.
Are there any internship opportunities provided?
Yes, the program includes internship opportunities with leading companies in the data science industry, allowing you to gain practical experience.